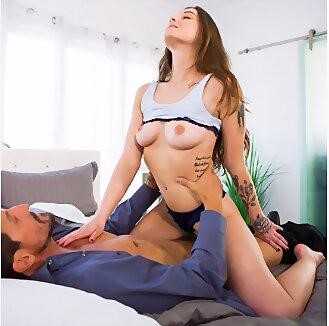 Howdy, wankers! How's it hanging? If it's not hanging close to the ground, you might want to read these paragraphs. The sheriff is going to teach you how to fuck some real bitches from time to time. This is in no way a statement against porn. The sheriff encourages watching porn all day and all night. But sometimes you gotta feel something else gripping around your dick than your own hand. It's healthy for the mind and soul. And if you don't have a wife or girlfriend around your house to splash your seed inside, then you need to get in touch with some bitches. The PornSheriff will tell you where to find those bitches and how to master the art of pulling bitches off the internet.
Step Number One: Locate The Bitches
Bitches are all over the internet. They post their asses on Instagram and TikTok. But there are slim chances of pulling one by just sliding in her DMs. So, instead, you must look for them on the sites where they go when they need a hard dick in their holes. All best sites of that type can be found in the sheriff's list of Best Dating Sites For Sex. Sites like FuckBook, XSwipes, Victoria Milan, and the famous Ashley Madison are perfect for that. What you need to know before trying to fuck some bitches from those sites is that you should spend some money on a premium account. Sure, they let you join the sites for free and browse through the profiles of horny chicks. But with a premium account, you will be able to DM them and they will even put you in front of everyone else when the chicks are browsing for dicks. And it's not expensive at all. An account on such a site is cheaper than a month of access on a premium porn site. And you have the chances of fucking multiple times with that account.
How To Make Sure You're Hooking Up On Adult Dating Sites
What not many guys understand is the fact that they need to work on their dating profile before trying to pull some bitches on these online sites. Most guys are going there thinking they will just enter the site and bitches will throw themselves at their feet. It's not like that. Your dating profile is like the tail of a peacock. If you have no profile pic and no description of yourself you have no chance. Imagine a peacock with no feathers on his tail. Do you think he'll pull any bitches? Obviously not! So, upload some flattering pics and write a description in which you boast about anything in your life that might make a chick drop her panties. No pictures with the fish you caught. Post pictures with you and your car, your fancy house, some expensive place where you've been, and the hobby you have. But don't be boring. If your hobby is collecting stamps, don't post that. That only makes bitches put on an extra pair of panties. Find a new hobby and try again!